Material Selection
One of the things that separates fine furniture from factory furniture, or even lower quality hand-crafted furniture is material selection. In the past, I have ordered my cherry lumber to be delivered from a distributor. I might take in 250 or 500 board feet at a time, but when it comes delivered in a pack from the distributor, it is random width, and length, and although it is certified as "Select and Better" grade, much of the lumber is unusable because of knots, sapwood, or other imperfections that will not make the cut (or more realistically, will need to be cut.)
I have decided that it is better for me to pick out each and every piece of wood that comes into the shop. By selecting each board, I am able to choose the best materials for color, grain selection and quality. It takes more time and costs more, but in the end it is worth the cost because of time and material saved not having to work with or around defects; and the end product is better because of the care and attention that went into selecting the perfect boards for the piece.
Beyond just buying the right material, the experience and artistic eye of a true craftsman has to know what to do with that material. Too many woodworkers treat wood as just any other material which is machined into a final shape, with no attention to the properties of the board itself. Wood started as a living thing, growing as a tree, delivering nutrients back and forth from the roots to the branches. It is the responsibility of the fine craftsman to breath life back into that wood - giving it a second life in a new form as furniture. Wood continues to act alive - expanding and contracting with the changes in humidity and climate. Different species of wood and different cuts - whether quartersawn, riftsawn, or flatsawn, will not only provide a different appearance on the face of the board, but will also expand and contract at different rates. Boring stuff to the lay-person, but this is the kind of stuff that keeps me up at night - selecting the right grain patterns on a board for the different parts of a piece not only create a better quality end product, but allows for some artistic creativity in designing a piece to add to the overall appearance. After having had a similar discussion with a customer, my customer told me after, "You are right - I just thought it looked great - but now I know why."
When designing custom furniture with hidden compartments, the secret parts need to come second and the overall design first. If a customer tells me that they need to securely store their watch collection, pistol or other gun collection, or jewelry, I put hours of thought and design into the best places in the particular piece where the compartments can go, the best orientation of the wood, and the best grain selection to assist with the overall design. In recent years, several companies have sprung up and stolen some of my designs, trying to pass them off as their own. When I look at photos of their work, to me the compartments are completely obvious, the overall designs are clunky, and the material selection has not been considered. The secret compartments in QLine Design furniture have been highly engineered to stay hidden throughout seasonal changes in humidity, and to appear invisible to the uninformed. Now, some of our business is due in part to my customers dissatisfaction with purchases of substandard furniture that neither looks nor performs as good in person as it does in tiny photographs on the internet.
Feel free to contact us directly to discuss the differences between keeping secrets with quality furniture with hidden compartments and the unfortunate cheap imitations.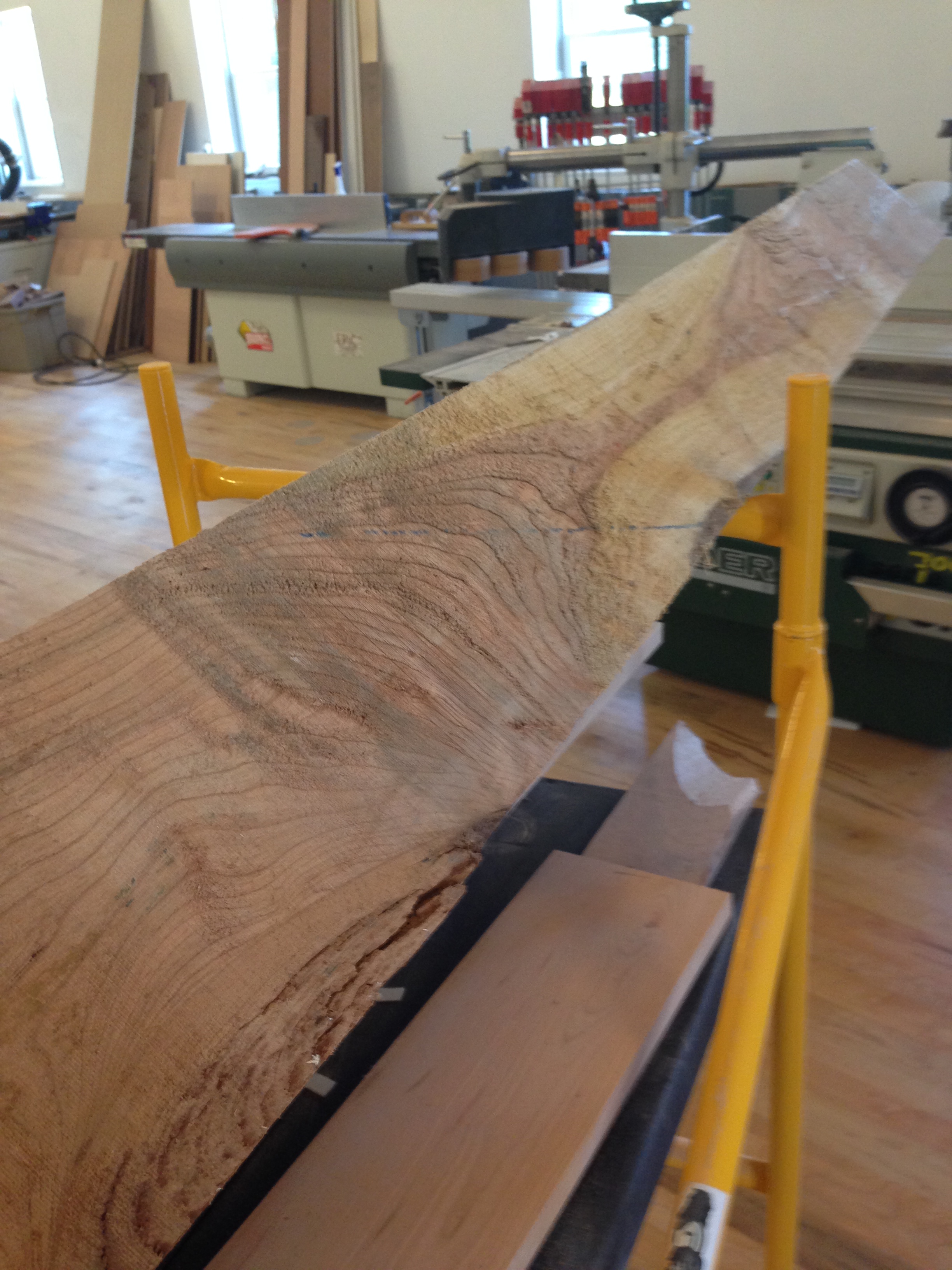 Yuck - this just won't do
A trip to Northland Forrest Products saves the day with some gorgeous wide Pennsylvania Cherry!